§ 2. Photographs
You may submit up to 30 photos with your listing. One photo must be an exterior shot. Photos must be submitted within 5 days of activation. Please name the image files to reflect the order in which you would like them displayed and send them to photos@instamls.com.
§ 3. Listing Revisions
All listing revisions and change requests (i.e. open house announcements, price changes, other revisions etc.) must be done on our website using our Client Center form. Since written permission is required to edit listings, changes will not be made over the phone under any circumstances. Filling out the Client Center form grants us authorization to make changes to your listing. The Seller(s) is responsible for reviewing the published listing and must notify us of any errors.
§ 4. Open Houses
Open House scheduling information (date / time) may be added to your MLS listing each week. This request should be sent in on Tuesday's by 6pm to ensure 3rd party sites have enough time to display the announcement before the weekend rolls around. Your listing will have a set of balloons on MLS signifying that you will be holding an Open House.
§ 5. Bonus Sites
MLS allows automatic data transfers to several 3rd party Real Estate websites and we cooperate with all of them, however, we have no control over these sites and cannot guarantee their reliability. Your flat fee to Hillman Real Estate is for the publishing to MLS ONLY. Third party bonus sites are purely a bonus subject to change without prior notice. Please view our site for a limited list of bonus sites.
§ 6. Fines
Nobody likes fines, but we have rules and protocol that we are required to follow per the rules and regulations of MLS. If you do not want us to get fined and pass the fine(s) along to you, please follow these simple rules. If you accept an offer, tell us immediately. We need to know the (1) Closing Price, (2) Closing Date, (3) Buyer's Agents Name and Brokerage. If the price or closing date changes you must notify us with the new details before the closing happens. On the day of the closing, you must confirm the (1) Recorded Price, (2) Recorded Date and (3) Agents Name and Brokerage one last time. You may notify us using our Client Center form. Additionally, you agree to never disclose that your property is pending or under agreement to other Agents before telling us. Once a property is listed on MLS it is technically not classified as a For Sale by Owner, therefore, MLS strictly prohibits using lawn signs that state the following verbiage: FSBO, FOR SALE BY OWNER or BY OWNER. It is not uncommon for Agents to take a photo and file an MLS complaint. If we receive a signage violation notice your listing is subject to removal. If you need a customizable for sale sign we have them for purchase.
§ 7. For Sale Signage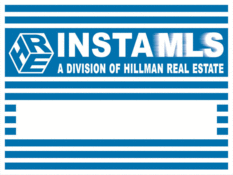 Per the Rules & Regulations of Realtor MLS you may NOT plant a sign that says FSBO – FOR SALE BY OWNER – BY OWNER. This is essentially to prevent Buyers and their Agents from getting confused when showing up for an appointment. Any fines imposed by Realtor MLS for not following this signage rule will be passed onto the Seller(s). We also reserve the right to cancel your listing if it is reported that you, the Seller(s), are not following this signage rule. We have professionally printed double-sided color signs with a galvanized steel lawn stake available for purchase. They are 18" x 24" and can be customized with the 3" numerical stencil set and a jumbo blue permanent marker that we include. Price: $40.00.
Do you need a customizable for sale sign? 3" Numerical Stencils and a Jumbo Blue Permanent Marker are included. Price: $40.00
§ 8. Payment
We accept the following payment types: Visa, MasterCard, Discover and American Express. We do not store payment information. Due to the nature of this service, we do not provide refunds for services rendered.